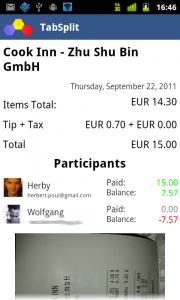 TabSplit 0.7 for android adds a new specialized view for Tabs. This should help you get an overview of the contents of a Tab on first sight. On top is a summary about the sum of all items of the receipt as well as the paid tip (and tax if applicable). Right below are all participants including how much they have paid as well as their share of the bill. If available you will also see a thumbnail of the receipt as well as all entered items and who has to pay for them.
This new view should give a much better overview than the "QuickEntry" activity which is used to enter the Tab. (You can still modify the tab by clicking on 'Edit' in the Options Menu).
The full changelog for this version: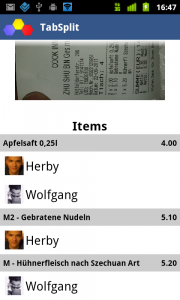 Added a view activity for Tabs
Removed deprecated Checkbox contact selection preference option.
Fixed bug for downloading tab photos.
Improved incremental sync – should work much faster now.
Added preference to start a background service to sync once an hour.