TabSplit is a online tool which allows you to share bills, split receipts among participants and record expenses in general. This allows you to track debts between your friends if you happen to share bills regularly – For example if you are sharing rent with your roommate, taking turns on paying restaurant bills, etc.
We try to give you the most flexibility how you work with your history of bills and expenses. We provide a full featured web application and android app for your phone and tablet as well as an API so you can access and backup your data.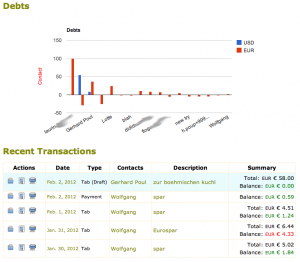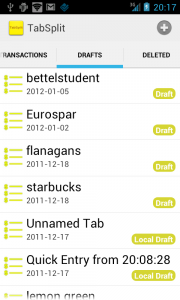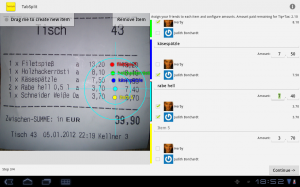 Giving a loan / Paying back a friend

This is possibly the simplest of all transactions – if you are lending a friend some amount, or paying him back simply create a new Payment. You only enter a description, date and amount.
Sharing a bill (e.g. rent, gas for a trip, entrance fees, etc.) using a Joint Payment

If you have a bill which is shared equally between your friends you can create a Joint Payment. Add all participants, tell us who has paid – and how much, and TabSplit will split it up equally among all participants.
Tabs (Split Itemized Bills like restaurant bills or any kind of Receipt)

This is the most complex of all transactions, but the one which got the most love :) When you pay for a group of people in a restaurant it's sometimes really hard to find a fair way to share the cost. So in TabSplit you assign all items to the participant(s) who actually *have* to pay those items, and enter the amount who was actually paid. Since this can be quite some bit of work we tried to make it as simple as possible, and as fast as possible. The most important thing is always to not forget to enter all receipts – therefore we made that easy – create a draft tab, take a picture of the receipt and you are done! you can come back later and finish the draft, since you always remember it by the receipt.
Sounds complicated? Take a look at an example video: http://www.youtube.com/watch?feature=player_embedded&v=0uE8bHcPfMM